Some people call this place the Residence of the Immortals.  You can find it at Seven Stars Park
Can you tell the difference between stalactites and stalagmites?  Watch and learn
Are you a spelunker or a caver?  Read more and find out
Guilin sits on the banks of the Li River, surrounded by dramatic karst peaks and flowering gardens.  Where is it?
August 2
Edit
The coldest temperature ever recorded here was -63 degrees F.  Learn more about this dramatic spot
Trumpeter swans, the biggest waterfowl in North America, aren't the only amazing creatures to call this place home.  Watch and see where they live
This dramatic landscape inspired one of America's favorite photographers.  Meet Ansel Adams
Swamps, glaciers, forests, mountains, rivers, and more — this place has it all.  Where is it?
August 3
Edit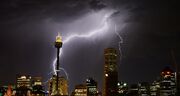 Over 4 million people live here in one of the world's most expensive, sophisticated cities. 
Not bad for a former penal colony
Is this the world's largest lightning rod?  No, but it is Sydney's tallest free-standing structure
Men have long sought to harness the powers of lightning – and one man actually succeeded.  It's pronounced Fronk-en-STEEN
The Sydney Tower isn't the only interesting landmark in these parts.  See what else this picturesque city has to offer
August 4
Edit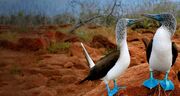 Blue-footed boobies roam the Pacific, from southern California to northern Peru.  These two are hanging out on the Galápagos Islands
These birds are so naturally tame that mariners called them boobies (which used to mean 'dummies').  Learn more about them
When it's time to mate, the booby with the bluest feet wins the girl.  Watch and learn about blue-footed boobies
These birds aren't the only creatures that live in one of the world's most famous wildlife sanctuaries.  Where are the Galápagos Islands, anyway?
August 5
Edit

This little outcropping belongs to the Republic of the Seychelles.  Learn more about this ocean paradise
Scuba divers around the world come to the Seychelles to swim with giant tortoises.  Watch and see what other creatures swim these waters
Aldabra giant tortoises live here in the Aldabra atoll; they can weigh up to 750 lbs and live for over 100 years.  Watch them go
The Republic of the Seychelles is a small cluster of islands in the Indian Ocean, just off the coast of Africa.  See it for yourself
August 6
Edit
Ad blocker interference detected!
Wikia is a free-to-use site that makes money from advertising. We have a modified experience for viewers using ad blockers

Wikia is not accessible if you've made further modifications. Remove the custom ad blocker rule(s) and the page will load as expected.