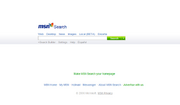 MSN Search was a search engine by Microsoft that comprised a search engine, index, and web crawler. As of September 12, 2006, MSN Search was updated and renamed to
Windows Live Search
. This offers users the ability to search for specific types of information using search tabs that include Web, news, images, music, desktop, local, and Microsoft Encarta. MSN Search aims to make its over 2.5 billion worldwide queries each month "more useful by providing consumers with improved.
Ad blocker interference detected!
Wikia is a free-to-use site that makes money from advertising. We have a modified experience for viewers using ad blockers

Wikia is not accessible if you've made further modifications. Remove the custom ad blocker rule(s) and the page will load as expected.