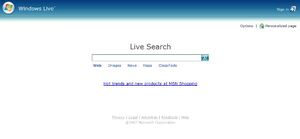 The first public beta of Windows Live Search was unveiled on March 8, 2006, with the final release on September 11, 2006 replacing MSN Search.
The new search engine used search tabs that include Web, news, images, music, desktop, local, and Microsoft Encarta.
In the roll-over from MSN Search to Windows Live Search, Microsoft stopped using Picsearch as their image search provider and started performing their own image search, fueled by their own internal image search algorithms
Ad blocker interference detected!
Wikia is a free-to-use site that makes money from advertising. We have a modified experience for viewers using ad blockers

Wikia is not accessible if you've made further modifications. Remove the custom ad blocker rule(s) and the page will load as expected.